Marpole Community Day 2017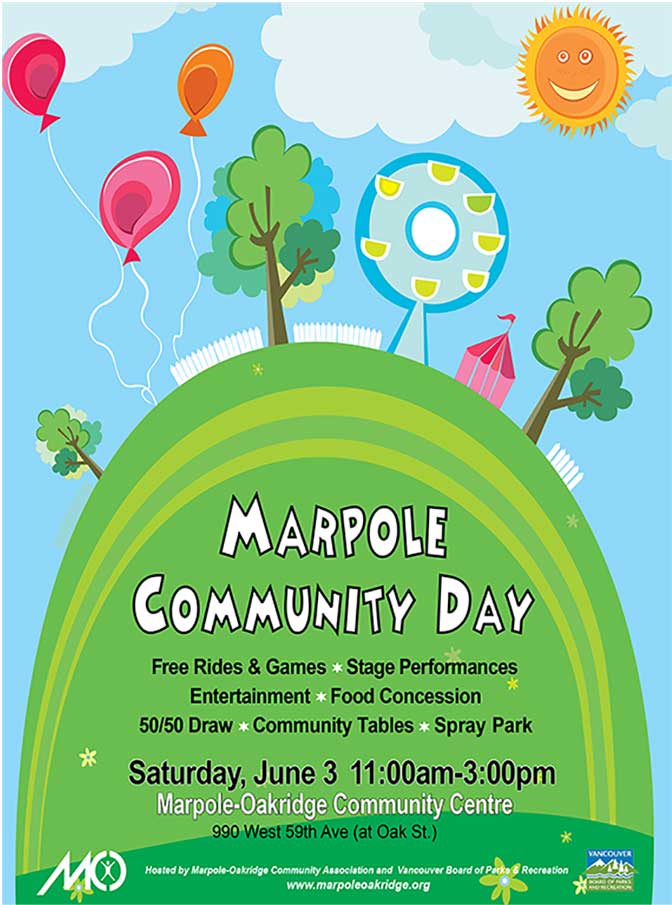 MARPOLE COMMUNITY DAY 2017
A day of celebration, fun and free activities for the entire family!

Vancouver, BC – Marpole Community Day is here again! Bring your family, friends and relatives to this longstanding Marpole tradition. It will be a day filled with fun, free family activities. This annual community celebration will take place on Saturday, June 3, 2017 from 11:00am-3:00pm at Oak Park, adjacent to Marpole-Oakridge Community Centre, 990 West 59th Avenue.
Free activities on the day include amusement rides, inflatables, games, activities, stage performances and professional entertainment. Visit the face painters and balloon artists, family fitness circuit and more. New this year, we have multiple sports activities on the field and more rides and inflatables than we've ever had before! The Marpole youth will be hosting the food concession to help fund youth activities at the centre. In addition, community tables featuring local organizations, community groups and exhibitions will be onsite. Don't forget to visit our silent auction showcasing local businesses who have provided unique items and gift certificates for you to bid on. Proceeds from the silent auction help support the Marpole Community Day event.
The annual festival is an opportunity to show appreciation to our neighbours, celebrate together, and unite the community. Marpole Community Day is hosted by Marpole-Oakridge Community Association and Vancouver Board of Parks and Recreation. Thank you to all the wonderful volunteers, sponsors and community supporters that contribute to the success of the event.
For inquiries about the event, please visit www.marpoleoakridge.org or call Marpole-Oakridge Community Centre (MOCC) at 604-257-8180 ext 1.