Childcare Services
Marpole-Oakridge Community Association Preschool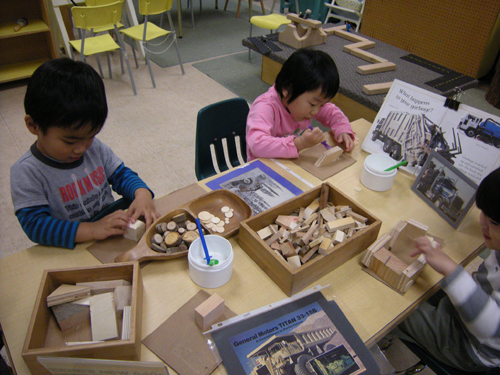 Marpole Preschool 604-257-8180 is recognized in the Early Childcare Education field as a leader and now has limited spots available for parents with 4 year olds who want their child to experience play-based learning in a safe, caring environment. Our waitlist for 2017-2018 enrollment is now available to the parents of children who will be three or four years of age as of December 31, 2017.

Marpole Preschool provides a play-based program that implements emergent curriculum inspired by Reggio Emilia preschools in Italy. We develop our curriculum by observing what and how children play and by listening closely to their voices. Based on observations, we provide an experience or materials that guides children to further explore their interests and what they want to discover. We then make further observation and provide further experiences, and this cycle goes on to support children's learning.
We believe children are competent, resourceful, creative, and curious!
We support children's individual learning as well as encourage collaborative learning through sharing ideas and working together.
We are looking forward to working with your child and you, the guardians, as a team!
Marpole-Oakridge Community Centre 990 West 59th Ave at Oak Street Vancouver
The Marpole-Oakridge Preschool operates Monday to Thursday, from September to June.
Program times are as follows:
3 years olds: 9:30 am to 11:30 am
4 years olds: 1:00 pm to 3:30 pm
There are a maximum of 18 children in the 3 year-old program and 20 in the 4 year-old program.
Fees are $227 per month. There is also a non-refundable $59 registration fee.
Payment can be made by cheque, made payable to the City of Vancouver.
For more information, please contact 604-257-8178.
Instructors: Natsuko Motegi and Gabriola Kinton.
At Marpole-Oakridge Preschool, children are considered to be able, creative, and competent learners with a strong desire to communicate. Their thinking and thought processes are highly valued. Children are known to learn best in a co-constructive, social environment and the preschool is designed to encourage this type of learning. The teachers, rather than pre-planning a curriculum, take their lead from the children. By listening and documenting the children's interests and ideas, the teachers plan a path of exploration.
Children are thought to have a "Hundred Languages" to express their knowledge and learning, and are accordingly given a wide variety of materials and opportunities to express themselves. They are respected as individuals and their own uniqueness is carefully nurtured.
We strongly believe in these principles and strive to allow all "Hundred Languages" to be heard and seen here in Marpole-Oakridge Preschool.
Marpole Oakridge Daycare Society
"A Child Care Learning Centre"
This non-profit licensed group daycare has served the Marpole Community for the past 40 years. We accept children from 2 ½ to 5 years old. Our program includes daily snacks, hot lunches, music classes, field trips and most importantly, an environment that feels like home for your child. Hours are 7:00 am to 6:00 pm Monday though Friday. All staff is ECE certified with current First Aid certificates. For more information, please give us a call at 604-325-5516 or email us at mods@telus.net